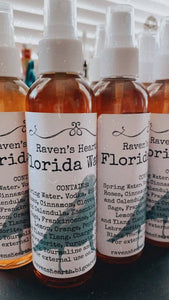 Florida Water
Regular price $24.00 Sale
F L O R I D A W A T E R. This is an EXCELLENT purifying/cleansing/antibacterial product. Use as a hand sanitizer, or add purified water to cleanse your home. This limited edition Florida Water has been crafted for you with loving intentions for goodness.
Brought to the United States in the early 1800s, Florida water has been integrated into use by many religions. It was also used as cologne for both men and women. There are many kinds of Florida water Some are clear this particular batch has an orange-ish tint due to some of the components of the formula.
It is warm, welcoming, and very holy. You can use Florida Water for many purposes As a cleansing agent for crystals, tarot cards and another ritual/divination items. You can use it to spritz yourself. It is cooling and smells very magical. It can also be used as an aftershave or a room spray.
Available in a 4-ounce spray bottle.