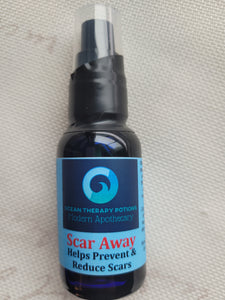 Scar Away
Regular price $18.00 Sale
**NEW PRODUCT**       
A nourishing, regenerative, restructuring oil to help prevent scar formation.  Also can help with reducing established scars. 
For all skin types.
30ml Dropper
Ingredients:
Organic Rosehip Seed oil, Organic Calendula oil, Organic Hemp seed oil, Macadamia nut oil, Vit. E, and Frankincense, Lavender, Geranium, Carrot Seed, and Helichrysum pure essential oils.
40% Dilution Rate.  Dilute more if preferred or if experiencing redness or itching.
 Directions:
Massage one to two pumps directly onto scar. Use one or two times a day up to six straight days, then resting on the seventh day. Repeat this schedule until desired results are reached. Can take up to four months to see full results. Store in cool, dry place away from direct sunlight.

Cautions:
Keep away from eyes, children younger than 12, pets. Harmful if swallowed. Stop use if skin irritation occurs. Avoid excess contact with clothing and furniture. Flammable-Do Not Burn. Consult physician if pregnant or nursing.  For those with allergies to nuts or with Asteraceae plants (ragweed, dandelion, sunflower, etc.), please do a spot test or avoid completely.