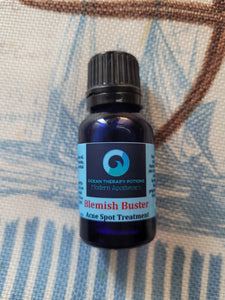 Blemish Buster
Regular price $18.00 Sale
Gentle, yet fast, acne spot treatment to help banish even the toughest pimples. 
Ingredients:
Grapeseed oil, Organic Jojoba oil, Aloe, Organic Tea Tree, Frankincense, Lavender 40/42, Lemon pure essential oils at 50% concentration, and Vit E.
Directions:
Use one drop on clean fingertip or cotton swab and gently rub on blemish being careful to avoid surrounding skin. Use up to six times a day or as needed until blemish is gone. Store in cool, dry place.
Cautions:
Keep out of reach of children younger than 12 and pets. Harmful if swallowed. Stop use if skin irritation occurs. Avoid contact with eyes, inside nose & ears, and lips. Avoid excess contact with clothing and furniture. Flammable-Do Not Burn. Consult physician if pregnant or nursing.
10ml Euro Dropper Bottle