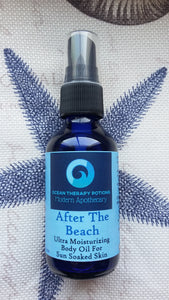 After The Beach Body Oil
Regular price $18.00 $9.00 Sale
Extra moisturizing, refreshing, and cooling blend for sun soaked skin.

Also good as a quick moisturizing spray after shower or bath.
60ml Spray Oil
Also comes in a body spray with witch hazel for extra cooling relief.
Massage Oil Ingredients: 
Grapeseed Oil, Fractionated Coconut Oil, Aloe Vera, Vitamin E Oil, and Lavender, Eucalyptus, Peppermint, and Roman Chamomile essential oils.
Directions:

Shake gently and spray on skin to soothe sun and wind stressed skin, to help maintain tan, and to help alleviate heat exhaustion. Repeat as desired. Store in cool, dry place away from direct sunlight.
Cautions:
Keep away from eyes, children younger than 4, pets. Harmful if swallowed. Stop use if skin irritation occurs. Avoid excess contact with clothing and furniture. Flammable - Do Not Burn. Consult physician if pregnant or nursing. Always seek medical attention for severe sun burns or heat stroke.