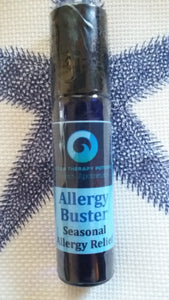 Allergy Buster
Regular price $16.00 Sale
***NEW & IMPROVED FORMULA***
Helps fight the symptoms of seasonal allergies like runny nose, sneezing, watery and itchy eyes, itchy throat.
10ml Roll-on, 30ml Roll-on, Aromastick, and **NEW** undiluted Pure Synergy Blend
Ingredients:
Grape seed oil and German Chamomile, Neroli, Organic Tea Tree, Lemon pure essential oils.
Directions:
Roll on skin under nose and eyes, around ears and throat, and tops of toes. Use every two to four hours or as needed. Store in cool, dry place away from direct sunlight.
Cautions:
Keep away from eyes, children younger than 12, and pets. Harmful if swallowed. Stop use if skin irritation occurs. Avoid excess contact with clothing and furniture. Flammable-Do Not Burn. Consult physician if pregnant or nursing.