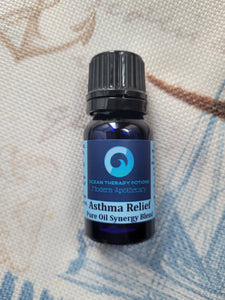 Asthma Relief Pure Oil Blend
Regular price $18.00 Sale
Pure synergy blend to help calm asthma symptoms like shortness of breath and wheezing.
10ml Euro Dropper Bottle
Ingredients:
Eucalyptus, Peppermint, Frankincense, Tea Tree, Roman Chamomile pure essential oils.
Directions:
Use 4-5 drops in diffuser or place 1-2 drops in palms, rub palms together and inhale or dilute and rub on chest.
Cautions:
This is a pure essential oil blend. Proper dilution is necessary prior to topical use to avoid injury. Keep away from eyes, children, and pets. Harmful if swallowed. Stop use if skin irritation occurs. Avoid excess contact with clothing and furniture. Flammable-Do Not Burn. Consult physician if pregnant or nursing. Always seek medical attention for serious health conditions.