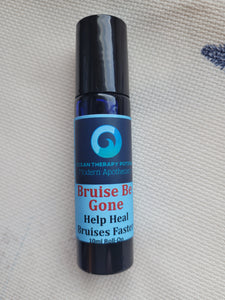 Bruise Be Gone
Regular price $16.00 Sale
***NEW PRODUCT***
Helps heal bruises faster.
Ingredients:
Grape seed oil, Arnica oil, Calendula oil, Hemp seed oil, and Helichrysum, Blue Chamomile, Frankincense Serrata, French Lavender, and Geranium Bourbon pure essential oils.
40% Dilution
Directions:
Gently roll on bruised skin as soon as you notice bruising. Use 4-6 times a day for the first 3 days, then taper down to 2 times a day.  Do not use for more than 14 days in a row.  Can dilute for longer term use.  Store in cool, dry place away from direct sunlight.
Cautions:
Keep away from eyes, children younger than 12, and pets. Harmful if swallowed. Stop use if skin irritation occurs. Avoid excess contact with clothing and furniture. Flammable-Do Not Burn. Avoid if pregnant or nursing.