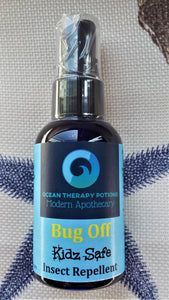 Bug Off - Baby Safe
An all natural, gentle insect repellent for children ages 3 months and up!

Repels all insects including mosquitoes, noseeums, gnats, ticks, and flies!
Clean, fresh floral aroma with a non-greasy feel.  Alcohol free.
Ingredients:
Distilled Water, witch hazel, vegetable glycerine, Lavender hydrosol, and Lavender 40/42, Citronella, Geranium, and Cedarwood pure essential oils.
Directions:
Shake gently and spray on exposed skin especially around neck, arms, and legs. For ages 3 to 18 months, avoid spraying on face and hands.  Can also spray on clothes, hat, carrier. Repeat as needed. Store in cool, dry place away from direct sunlight.
Cautions:
Keep away from eyes, mouth, and pets. Harmful if swallowed. Stop use if skin irritation occurs. Avoid excess contact with clothing and furniture. Flammable-Do Not Burn. Consult physician if pregnant or nursing.