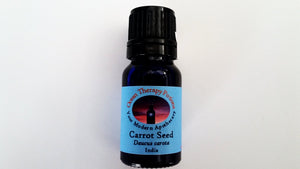 Carrot Seed Essential Oil
Regular price $12.00 $12.00 Sale
Daucus carota
Uses:
Calmative, diuretic, regenerative, vasodilatory good for indigestion, water retention, urinary tract health, detoxifying, eczema, psoriasis, acne. Excellent in facial serums.
Can be a natural sun screen.
Ingredients:
100% Pure Carrot Seed essential oil.
Seeds Extraction Method.
Steam Distilled.
India
Cautions:
This is a pure oil. Proper dilution is necessary prior to use. Keep away from mucus membranes like eyes, inside nose, and lips. Keep out of reach of children and pets. Per the FDA, harmful if swallowed. Stop use if skin irritation occurs. Avoid excess contact with clothing and furniture. Flammable-Do Not Burn. Consult physician if pregnant or nursing.
10ml Euro Dropper