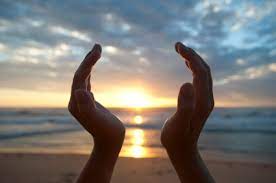 Centered
Regular price $16.00 Sale
***Intention - Focus - Grounded***
A grounding blend to help quiet the racing mind to better center your mind and emotions.

10ml Roll-on & undiluted Pure Synergy Blend.
 Roll-On:
Ingredients:
Grape seed oil and pure essential oils of West Indian Sandalwood, Patchouli Dark, Frankincense Serrata, Key Lime, Ylang Ylang, Hawaiian Sandalwood, Roman Chamomile, & Frankincense Carterii.
15% Dilution
Directions:
Roll on skin around neck, forehead, and wrists. Repeat every two to four hours or as needed. Store in cool, dry place away from direct sunlight.
Cautions:
Keep away from eyes, children younger than 6, and pets. Harmful if swallowed. Stop use if skin irritation occurs. Avoid excess contact with clothing and furniture. Flammable-Do Not Burn. Consult physician if pregnant or nursing.