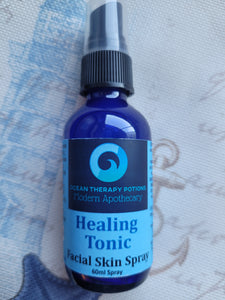 Healing Tonic Facial Skin Spray
Regular price $22.00 Sale
In Stock NOW!
Healing, toning, clarifying facial skin spray with soothing and brightening properties. 
Excellent for blemish prone, mature, and inflamed skin issues. 
Use 1-2 times a day or as desired.  Apply before serum or moisturizer.
Can also be used as a light cleanser. 
Makes a great make-up setting spray, too!
Ingredients:
 Hydrosols of Tea Tree, Turmeric, Yarrow, Comfrey, Roman Chamomile, Hemp, Frankincense, and Clary Sage, Yarrow, Helichrysum pure essential oils, and Hyaluronic Acid serum (Hyaluronic Acid, Distilled water, Vegetable Glycerin).
All Organic, Kosher, Vegan, and Wildcrafted
Repeat as desired. Store in cool, dry place away from direct sunlight.
Keep away from eyes. Harmful if swallowed. Stop use if skin irritation occurs. 
2 ounce glass spray bottle