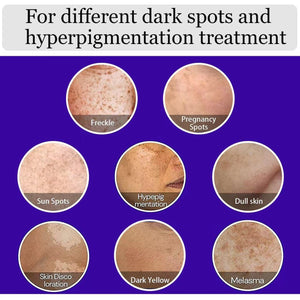 Dark Spot Corrector
Regular price $36.00 Sale
**NEW PRODUCT**       
Based on customer demand and feedback. 
This serum will lighten and fade dark spots on the face and body while regenerating newer looking skin. 
30ml Dropper
Ingredients:
Organic Rosehip Seed oil, Organic Evening Primrose oil, Organic Sea Buckthorn oil, Vit. E, and Frankincense, Carrot Seed, Geranium, and Turmeric pure essential oils.
25% Dilution Rate.  Dilute more if preferred or if experiencing redness or itching.
 Directions:
After cleansing the skin and after using your favorite toner (optional), massage one to two drops into skin of affected area. Follow up with your favorite moisturizer. Wash hands after each use. Use one or two times a day. Can take up to two to three months to see full results. Store in cool, dry place away from direct sunlight.

Cautions:
Keep away from eyes, children younger than 12, pets. Harmful if swallowed. Stop use if skin irritation occurs. Avoid excess contact with clothing and furniture. WILL STAIN CLOTHING AND FABRICS! Flammable-Do Not Burn. Do not use if pregnant or nursing.