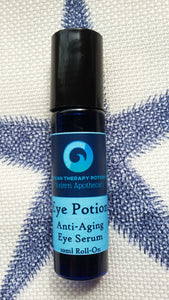 Eye Potion
Regular price $18.00 Sale
***NEW & IMPROVED***
Our Eye Potion is BACK! Now, it is even better at dark circles and wrinkles.
Anti-aging, nourishing, moisturizing eye serum for dryness, fine lines, wrinkles, and puffiness. SPF 30 
10ml Roll-On
Ingredients:
Grapeseed oil, Organic Rosehip Seed Oil, Argan Oil, Organic Marula Oil, Organic Maracuja Oil, Hemp oil, Castor oil, Bakuchi oil, Green Tea extract, Hyaluronic Acid, Vit. E, and Carrot Seed, Frankincense, Geranium, Rose pure essential oils.
Directions:
Gently roll-on skin around eye area. Gently pat to fully absorb. Use one or two times a day or as desired. Store in cool, dry place away from direct sunlight.
Cautions:
Avoid direct contact with eyes. Keep away from children and pets. Harmful if swallowed. Stop use if skin irritation occurs. Avoid excess contact with clothing and furniture. Flammable-Do Not Burn. Consult physician if pregnant or nursing.