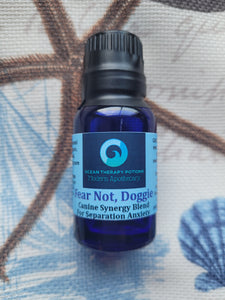 Fear Not Doggie
Regular price $18.00 Sale
***NEW PRODUCT BASED ON CUSTOMER REQUEST***
A special blend for canine separation anxiety or extreme fear. 

30ml Dropper

Ingredients: 
Fractionated Coconut oil, Petitgrain, Bergamot, Sweet Basil, Neroli/Jasmine, Ylang Ylang pure essential oils.
Directions:
Based on size of dog, drop 1-6 drops into palms and lightly rub on tips of ears, around neck, belly, base of tail, paws, and coat. Repeat every 2-4 hours or as desired to maintain calmness. Store in cool, dry place away from direct sunlight.
Cautions:

Keep away from eyes, inside of ears, and children. Do not drink. Do not saturate fur. Stop use if skin irritation occurs. Flammable-Do Not Burn. Consult vet for use on sick, pregnant, or lactating dogs.