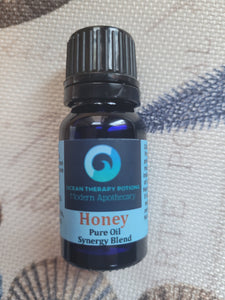 Honey Pure Oil Synergy Blend
Regular price $18.00 Sale
A sweet, yet complex, uplifting, relaxing, grounding blend.  Just like fresh honey.
Also great for respiratory infections, bacterial infections, fungal infections, and inflammation because of the Manuka essential oil.  Manuka essential oil is the steam distillation of the leaves of the Manuka bush - the same bush where Manuka honey is harvested.  Manuka can be up to 33 times stronger than Tea Tree oil in some bacterial infections. 
10ml Pure Oil Blend
Ingredients:
Pink Grapefruit, Manuka, Vanilla oleoresin, Ylang Ylang, Cinnamon Bark, Eucalyptus Globulus pure essential oils, and Honey natural identical oil.
Uses:


For diffuser or oil warmer, in a bath, body spray, body oil or lotion, parfum, or anointing oil.  Store in cool, dry place away from direct sunlight.
Cautions:
Keep away from eyes, children younger than 12, and pets. Harmful if swallowed. Stop use if skin irritation occurs. Avoid excess contact with clothing and furniture. Flammable-Do Not Burn. Consult physician if pregnant or nursing.