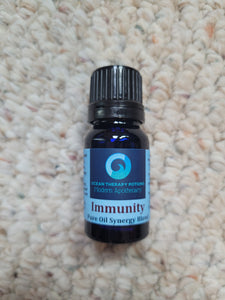 Immunity Pure Oil Blend
Regular price $18.00 $18.00 Sale
**Back By Popular Demand**
Helps in boosting immunity to prevent viruses. Perfect in a diffuser.
10ml Euro Dropper Bottle
Ingredients:

Clove Bud, Organic Sweet Orange, Frankincense, Cinnamon Leaf, Lemon, Eucalyptus Globulus, and Rosemary Camphor essential oils
Uses:
Anti-bacterial, anti-viral, anti-microbial, anti-fungal blend to help prevent and recover from viruses and infections.
Use in a diffuser, aromastick, carrier oil, or aroma spray.
Cautions:
This is a pure essential oil blend. Proper dilution is necessary prior to topical use to avoid injury. Keep away from eyes, children, and pets. Per the FDA, harmful if swallowed. Stop use if skin irritation occurs. Avoid excess contact with clothing and furniture. Flammable-Do Not Burn. Consult physician if pregnant or nursing.