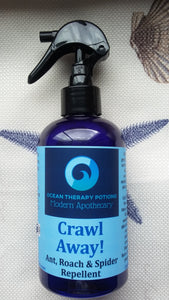 Crawl Away
Regular price $24.00 Sale
****NEW LARGER SIZE WITH BETTER SPRAYER****
All natural insect repellent for the home.  Will help repel ants, roaches, and spiders.  Safe around kids and pets.  Spray around entry ways, windows, kitchen, bath, and anywhere where insects crawl! Pleasant woodsy mint aroma.
New larger 16oz size with better sprayer
Ingredients:
Distilled Water, white vinegar, salt, soap, alcohol, and Cedarwood and Peppermint essential oils.
Directions:
Shake gently and spray on hard surfaces around entryways, windows, kitchens, and baths. Repeat as needed. Store in cool, dry place away from direct sunlight.
Cautions:
Keep away from eyes. Do not allow children or pets to play with product. Harmful if swallowed. Stop use if skin irritation occurs. Not recommended for clothing, furniture, carpets, or unsealed porous surfaces. Flammable-Do Not Burn. Consult physician if pregnant or nursing.