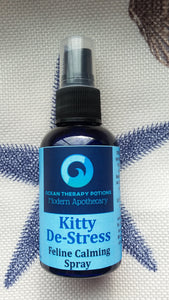 Kitty De-Stress
A gentle calming spray for cats. Perfect for car rides, vet trips, thunder storms, fireworks, unexpected company, and much more.
2 ounce Spray
Ingredients: 
Distilled Water, vegetable glycerin, Lavender hydrosol, Roman Chamomile hydrosol, Rose hydrosol, and Clary Sage essential oil.
Directions:
Shake gently and mist on fur and around bedding or carrier. Can also spray into hands and lightly rub on tips of ears, belly, jaw line, and coat. Or, spray cotton ball and place in carrier. Repeat as desired. Store in cool, dry place away from direct sunlight, refrigeration preferred.
Cautions:

Keep away from eyes, inside of ears, and children. Do not drink. Do not saturate fur. Stop use if skin irritation occurs. Flammable-Do Not Burn. Consult vet for use on sick, pregnant, or lactating cats.