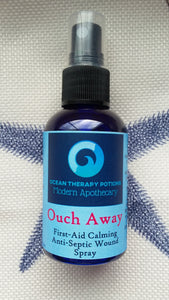 Ouch Away
***NEW & IMPROVED***
First-Aid anti-septic wound cleaning blend. Gentle, yet effective to clean minor skin wounds, like cuts, scrapes, burns, bug bites, and rashes.  Stops the itch, soothes, calms and helps heal the skin.
Comes in a 2 ounce Spray 
Spray Ingredients:
Witch Hazel, Fractionated Coconut Oil, Aloe, Hydrosols of Roman Chamomile*, Lavender*, Tea Tree*, and Lavender 40/42, Eucalyptus*, Tea Tree*, Frankincense, and Roman Chamomile essential oils.
*Organic
Directions:

Shake gently and apply on affected area. Use every 2 to 4 hours or as desired.  For children ages 18 months to 4 years, use only four times a day. Store in cool, dry place away from direct sunlight.
Cautions: 
Keep away from eyes, children younger than 4, pets. Harmful if swallowed.  Stop use if skin irritation occurs. Avoid excess contact with clothing and furniture. Flammable-Do Not Burn. Consult physician if pregnant or nursing. Always seek medical attention for serious wounds or infection.