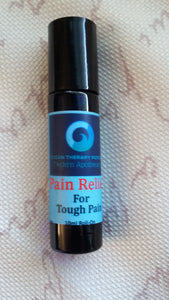 Pain Relief
Regular price $16.00 Sale
Potent blend to help combat tough pain from arthritis, bursitis, nerve pain, muscle pain.
**Now with Hemp Seed oil for added anti-inflammatory relief!**
Ingredients:
Grape seed oil , Hemp seed oil, and Rosemary Camphor, Wintergreen, Sweet Marjoram, Frankincense, Copaiba essential oils.  30% Dilution
Directions:
Roll on skin directly on affected areas. Use every two to four hours or as needed. Store in cool, dry place away from direct sunlight.
Cautions:
Keep away from eyes, children younger than 12, pets. Harmful if swallowed. Stop use if skin irritation occurs. Avoid excess contact with clothing and furniture. Flammable-Do Not Burn. Consult physician if pregnant or nursing. Not recommended for people with bleeding disorders or who regularly take high doses of anti-inflammatory drugs or aspirin.