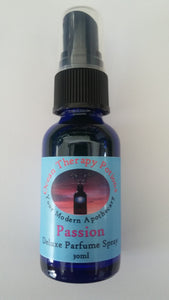 Passion
Regular price $18.00 $18.00 Sale
Floral and sweet with a touch of spice. Uplifting, calming, seductive for romance and relaxation. For men or women.
10ml Roll-On, 60ml Spray, 10ml Pure Oil Blend
Ingredients:
Alcohol, distilled water, Jojoba oil, Vitamin E, and Ylang Ylang, Jasmine, Rose Absolute, Cardamom, Sandalwood essential oils.
Directions:

Shake gently and generously spray on skin for a sensual experience. Repeat as desired. Store in cool, dry place away from direct sunlight.


Cautions:
Keep away from eyes, children younger than 12, and pets. Harmful if swallowed. Stop use if skin irritation occurs. Avoid excess contact with clothing and furniture. Flammable-Do Not Burn. Consult physician if pregnant or nursing.