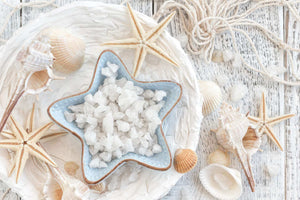 Pink Water
Regular price $16.00 Sale
***BACK BY POPULAR DEMAND!***
Ever noticed your skin or hair always looks better after being in the Ocean? Well, it is because of the sea salt!  Pink Water is a sea salty spray to use anytime to help clear up troubled skin like acne, eczema, and psoriasis. 
Ingredients:
Distilled water, Himalayan Pink salt, Dead Sea salt, magnesium chloride, witch hazel, Roman Chamomile hydrosol*, Lavender hydrosol*. and Tea Tree hydrosol*.       
*Organic
Directions:
Spray directly on trouble skin on face or body. Can also soak a cotton ball or small towel to apply. Follow up with moisturizer or salve, if desired. 
Repeat as often as desired. Store in cool, dry place away from direct sunlight, preferably in the refrigerator.
Cautions:
Keep away from eyes, children younger than 2, and pets. Harmful if swallowed. Stop use if skin irritation occurs or worsens. Consult physician if pregnant or nursing.
60ml glass spray bottle