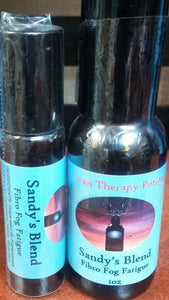 Sandy's Blend
Regular price $18.00 Sale
**This is a specialty blend made to order. Please allow 2-3 days processing.**
A blend to help manage the pain and brain fog of Fibromyalgia.  Used daily can help reduce the severity of symptoms.
Use in conjunction with our Pain Relief, Sleep Easy, Focus, or Magnesium Oil blends, 
Ingredients:
Grape seed oil, Organic Hemp seed oil, and Frankincense, Sandalwood, Cedarwood, Vetiver, Ravensara, Patchouli Dark pure essential oils.
Directions:
Roll on skin at base of skull, behind ears, on top of head. bottoms of feet. Use at least twice a day or every four to six hours or as needed. Store in cool, dry place away from direct sunlight.
Cautions:
Keep away from eyes, children younger than 12, and pets. Harmful if swallowed. Stop use if skin irritation occurs. Avoid excess contact with clothing and furniture. Flammable-Do Not Burn. Consult physician if pregnant or nursing.