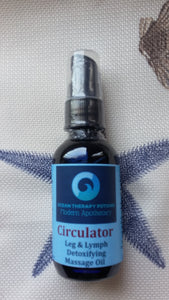 Circulator - Leg & Lymph Detoxifying Massage Oil
Regular price $18.00 $9.00 Sale
Help stimulate the circulation and lymph system in the legs and body.  Good for tired legs, varicose veins, sluggish circulatory and lymph systems. 
Ingredients:
Grape seed oil, Hemp seed oil, Sea Buckthorn oil, Vitamin E oil, and Cedarwood, Cypress, Frankincense, Juniper Berry, Lemon, Organic Lemongrass essential oils.
Directions:
Use two to four pumps and massage into skin towards center of body.  Use one to two times a day, or as desired. Store in cool, dry place away from direct sunlight.
Cautions:
Keep away from eyes, children younger than 12, and pets. Harmful if swallowed. Stop use if skin irritation occurs. MAY STAIN CLOTHING AND FABRICS. Avoid excess contact with clothing and furniture. Flammable-Do Not Burn. Consult physician if pregnant or nursing.