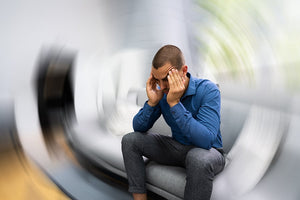 Vertigo
Regular price $18.00 Sale
***NEW PRODUCT ALERT***
After a limited trial release, we are now offering our Vertigo blend permanently. 
Our Vertigo blend helps fight dizziness commonly associated from inner ear disorders, illness, auto-immune disorders, long COVID, and more.
10ml Roll-On or Aromastick Nasal Inhaler
Roll-On Ingredients:
Grape seed oil, Organic Hemp seed oil, and Frankincense, Helichrysum, Peppermint Japanese, Cypress, and Ginger Root pure essential oils.
25% Dilution
Roll-On Directions:
Roll on skin behind ear, temples and forehead. Use every two to four hours or as needed. Store in cool, dry place away from direct sunlight.
Nasal Inhaler Ingredients:
German Chamomile, Peppermint Japanese, Rosemary Camphor, Lavender, and Lemon pure essential oils.
Nasal Inhaler Directions: 
Gently place inhaler just inside one nostril while pressing opposite nostril close. Deeply and slowly inhale. Change sides and repeat. Repeat every two to four hours or as needed. Keep cover tightly closed.  Refillable wick.
Cautions:

Keep away from eyes, children younger than 12, and pets. Harmful if swallowed. Stop use if skin irritation occurs. Avoid excess contact with clothing and furniture. Flammable-Do Not Burn. Consult physician if pregnant or nursing.