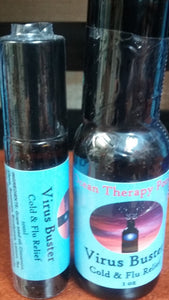 Virus Buster
Regular price $18.00 Sale
Helps combat the symptoms of colds, flu, and other viruses.
Ingredients:
Grape seed oil and Cinnamon Leaf, Clove Bud, Organic Oregano, Organic Tea Tree, Eucalyptus Globulus, Rosemary Camphor, and Lemon pure essential oils.
Directions:
Roll on skin around forehead, under nose, cheek bones, chest, and bottoms of feet. Use every two to four hours or as needed until symptoms are gone. Store in cool, dry place away from direct sunlight.
Cautions:
Keep away from eyes, children younger than 12, and pets. Harmful if swallowed. Stop use if skin irritation occurs. Avoid excess contact with clothing and furniture. Flammable-Do Not Burn. Avoid if pregnant or nursing. Not recommended for use longer than 10 days.